NEW

STAND-ALONE

NOVEL
by USA Today Bestselling Author, Chelle Bliss Released on January 26th - LIVE
EVERYTHING CHANGED IN AN INSTANT.
I thought I knew what was important, but one phone call sent my life into a tailspin.
Alone and afraid, I cling to the one man I shouldn't.
I was warned about him and told to stay away. "He's dangerous," they said.
But the man who could hurt me the most, gave me the greatest comfort.
"He's not who they think," I told myself.
But just like an illusion, things are never what they seem.
5 Star Review
I was given this book for an honest review
I'm not sure where to start or how to do this book justice. Its different from Chelle Bliss's other books and it covers a very difficult subject but its written so beautifully.
Its a story of love, hope and most of all acceptance. Its about bringing light into the darkness.
One phone call changed Callie's life, up until now all she needed to think about was what shoes to wear or what dress best matched those shoes. Now she faces the fight of her life but what she never expected was help from a sexy tough guy called Bruno (the butcher), but Callie never asked or wanted help .......
Bruno is tough sexy guy who for has got the nick name of The Butcher, no one knows why but it seems to match his secretive life. When Callie's best friend asks him for help he see's it as an opportunity to get close to the girl he has admired from a distance but to get her to accept his help he needs to kick her door down........
I don't want to give to much of this story away and I do have to say at the start of this book I picked it up I put it down but once I got past the first chapter there was no putting down I had to finish I had to see if "the light came into the darkness". This story is an emotional rollercoaster but Ms Bliss managed to give us some smiles and even some laughter whilst covering something that effects so many peoples life's. As always with her books we get the family values that I think most of us wish for at some point in our life.
This is a true love story and even though this is a standalone I hope we get more from The Bruno Clan.
Chelle Bliss has given us another 5 star read
4.5 Stars
There are some books that I describe as beautiful. To me this was a beautiful book.
This is the love story of Bruno and Callie. Our hero, Bruno, wakes up to find the girl from the night before has left his bed. And now he has to deal with his family and a hangover. Through the visit with his family the reader learns to important things. Bruno is getting over the loss of his fiance and his job is very dangerous. Fast forward five years - we meet Callie. Callie is trendy, beautiful and has a wonderful best friend, Rebecca. And Callie has a crush on Bruno "The Butcher". Everyone is afraid of him and he is hot and all that you would expect and there is ton of stolen glances and chemistry between the two, almost like....(well, I don't want to spoil it.). But Callie is to nervous to approach him. Then Callie receives a life changing diagnosis. And when Callie locks herself in her apartment, Rebecca turns to "The Butcher" to break down the door.
I don't want to give too much away in my summary of the book. I liked the realness of the characters. This isn't one of those novels where the author sugar coats the mental health of her characters. Chelle Bliss brings the reader down into the trenches with Callie, as she learns to handle her diagnosis. I love when an author is able to take control of the deeper and darker emotions that a character must feel when they are going through something like this. Too often authors are skipping over the mental aspects of their character's well being. How many times have we seen a lead female be hurt, but able to rebound just because Mr. Alpha walks in the door? Real life doesn't work that way, granted we read to escape but it helps reader's to identify with characters when the reaction are more realistic. Chelle Bliss nailed it with this book. I could honestly think many people will be able to identify with this book and find it completely life changing. And not to mention I kinda fell in love with a secondary character and I hope he gets his own story. Ms. Bliss if you read this, please let me know if Lucca gets his own story!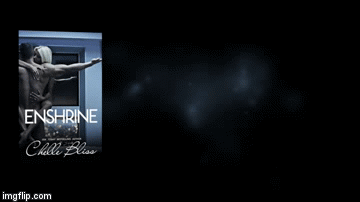 Available at the following retailers
ENSHRINE GIVEAWAY - OPEN INTERNATIONALLY
ABOUT THE AUTHOR
USA Today Bestselling author, Chelle Bliss, currently lives in a small town near the Gulf of Mexico in Florida. She's a full-time writer, time-waster extraordinaire, social media addict, and coffee fiend. She's written over ten books and has two series available. She loves spending her free time with her boyfriend, 2 cats, and her hamster.
Before becoming a writer, Chelle taught high school history for over ten years. She holds a master's degree in Instructional Technology and a bachelor's in history. Although history is her first love, writing has become her dream job and she can't imagine doing anything else.
ALSO BY CHELLE BLISS